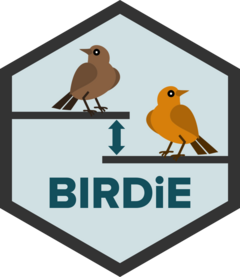 Download Census Race Data
Source:
R/census.R
census_race_geo_table.Rd
Downloads and prepares race-by-geography tables from U.S. census data, using the easycensus package. Requires that an api key be set up through easycensus::cens_auth() in that package. Supports data from the decennial census and the American Community Survey at a variety of levels of geographic detail. The output of this function can be used directly in bisg().
Arguments
geo

The geographic level to return. Common options are listed in the function signature, but any of the geographies listed at easycensus::cens_geo() may be used.

...

Further subgeographies to return, as in easycensus::cens_geo().

year

The year for the data

survey

The data product to use: either the decennial census ("dec"), or the the 1-year or 5-year ACS.

GEOIDs

If TRUE, return the GEOID column as the unique geographic identifier; if FALSE, return a human-readable name. For example, with geo="state", setting GEOIDs=FALSE will return a column named state with entries like "Massachusetts".

counts

If TRUE, return the table as actual population counts; if FALSE, return table as percentages within each geography.
Value
A data frame with geographic identifier column(s) and six columns white, black, etc. containing the counts or proportion of residents in each racial group.